Active Learning Resources
Want to motivate your students to engage the content of your course and increase responsibility for their own learning? Looking to enhance your current teaching practice with a range of techniques that will make your class prep more efficient? Aspiring to develop a vocabulary to describe the effectiveness of your teaching? Active learning can help!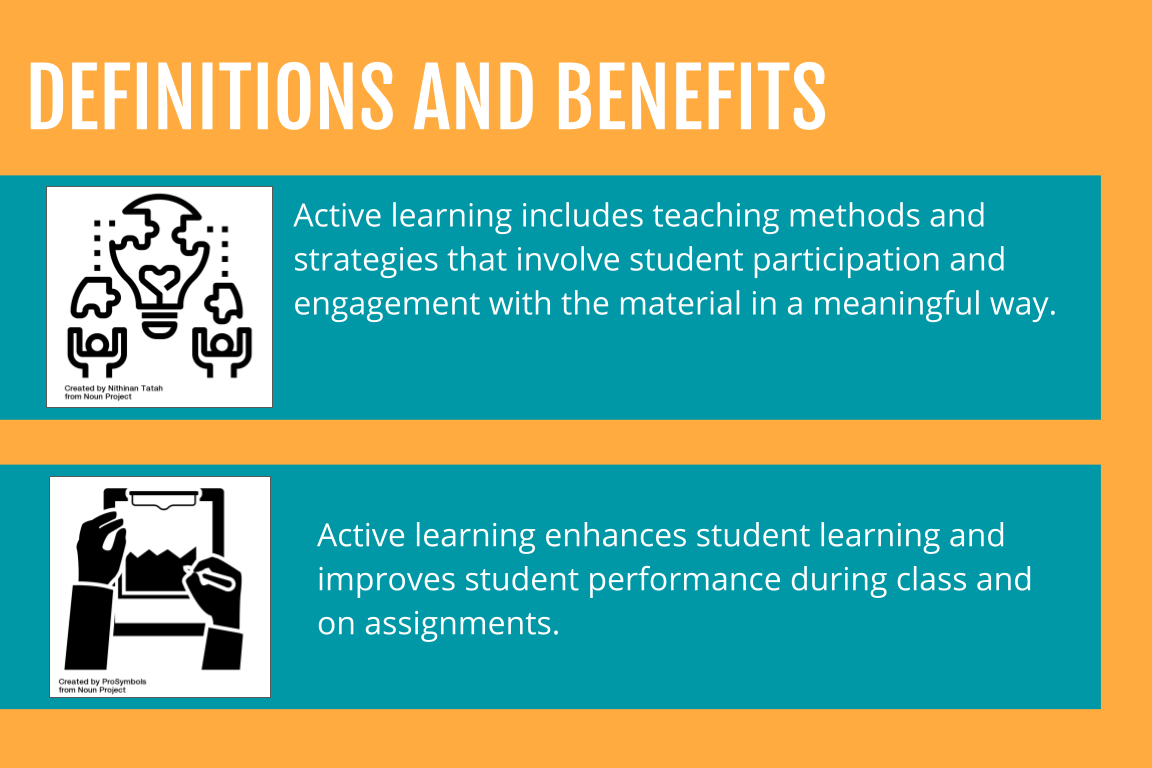 From simple techniques that get students involved in lecture to complex assignments that incorporate critical thinking and problem solving, active learning strategies increase student learning and develop instructor flexibility with diverse learning environments. Active learning includes any activity or approach that makes students engage the material through meaningful activities that require that they think about what they are doing and why (Bonwell and Eisen, 1991). Such activities occur in the classroom during instruction (Prince 2004), and involves all students (Felder and Brent, (2009). It works for classes range from 20 to 200 in all disciplines.  There are certain active learning strategies, such as collaborative assignments and undergraduate research that are also high-impact practices because they have been shown to increase rates of retention and student engagement (Kuh).
Put simply, active learning enhances student learning. When students are involved in their own learning, it increases their interest and motivation and helps build competencies and skills. It improves performance on exams (Freeman). Instructors who use active learning strategies can obtain immediate feedback on the effectiveness of their teaching. Active learning techniques enhance content delivery and  makes teaching more efficient.  
Active Learning Classrooms
While active learning strategies can be used in traditional classrooms, active learning classrooms have elements that promote flexible teaching, including variable room arrangements and technologies. Classrooms feature furniture that can be moved around in different configurations to support student collaboration. They also include whiteboards around the room that help students to share their work.  Though it varies from room to room, these classrooms also features technology that supports active learning.
To see an active learning classroom in action, watch this video on how Indiana University uses active learning classrooms.
Active Learning Scholarship
Bonwell, Charles C. and James A. Eison, Active Learning: Creating Excitement in the Classroom, ASHE-ERIC Higher Education Report No. 1. The George Washington University: Washington, D.C., 1991.
Davidson, Cathy.  "10 Key Points About Active Learning," Inside Higher Education, 25 Jan 2018
https://www.insidehighered.com/views/2018/01/25/how-think-about-active-learning-and-its-benefits-opinion. 
Freeman, Scott et al. "Active Learning Increase Student Performance in Science, Engineering, and Mathematics." PNAS: Proceedings of the National Academy of Sciences of the United States of America, vol 111, no. 23 (2014): 8410-8415.
Kuh, George. "High-Impact Educational Practices: A Brief Overview," Association of American Colleges & Universities, https://www.aacu.org/leap/hips.
Prince,Michael.  "Does Active Learning Work? A Review of the Research," Journal of Engineering Education, vol. 93, no. 3 (July 2004): 223-231, doi:10.1002/j.2168-9830.2004.tb00809.x
---
Show All | Hide All
Active Learning Environments
Designing for Active Learning
Active Learning Challenges and Strategies
---
NEW RESOURCE! As part of Mason's strategic plan, we are committed to designing learning spaces that support active learning. Check out Mason's Learning Environments website for more information. (Note: The Active Learning with Technology (ALT) experience video has been moved to this new website. Please click on the "Faculty Experience" tab to view.)