The Stearns Center for Teaching and Learning offers a range of learning and support opportunities for instructors across Mason's campuses, whether you are just getting started or have years of experience. We invite you to learn more about us by following the links below, and to explore our online resources and visit us at the Center to learn about available programs and support. If you don't find what you are looking for, please contact us. We look forward to working with you.
Connect with Us!
Visit: The Stearns Center for Teaching and Learning is located in Suite 412 of Innovation Hall, Fairfax Campus.
Email: stearns@gmu.edu
Phone: 703-993-6200
Mail: Stearns Center for Teaching and Learning, George Mason University, 4400 University Drive MS 4D6, Fairfax, VA 22030
Twitter: @StearnsCenter
Show All | Hide All
Our Mission
The mission of George Mason University's Stearns Center for Teaching and Learning is to provide leadership in promoting, supporting, and celebrating educational excellence. We pursue our mission through working with Mason faculty to enhance their skills as educators, as reflective practitioners in their disciplines, and as scholars in teaching, learning, and research. The Stearns Center for Teaching and Learning seeks to promote a climate of shared intellectual exploration and openness and to advocate for academic initiatives related to educational and faculty enhancement. The Stearns Center collaborates with academic, academic support, administrative, and University Life offices to offer resources and support to faculty from across the Mason community at all stages of their academic careers, including graduate students, part-time faculty, and full-time faculty.
---
Core Values
Integrity
~ as exemplified by our attention to the highest ethical standards in all domains
Inclusivity
~ as exemplified by our commitment to fostering a diverse community that welcomes the ideas of faculty and graduate students of all backgrounds, across all disciplines and fields of inquiry
Support
~ as exemplified by our focus on a personalized professional development approach for the members of our community and by fostering faculty and graduate student success
Collaborative Leadership
~ as exemplified by our commitment to working with our partners and key stakeholders to provide robust teaching and learning environments for our students through ongoing professional and curricular development
Authenticity
~ as exemplified by striving to model promising practices and our core values in all of our actions and challenging ourselves to consistently achieve our best
Scholarship
~ as exemplified by our attention to researching and sharing innovative practices for teaching and learning and encouraging the integration of scholarship with teaching and learning
---
Who We Are
Kimberly K. Eby, PhD – keby1@gmu.edu
Associate Provost for Faculty Affairs and Development
Kimberly Eby joined the Mason faculty in 1996. An associate professor in the School of Integrative Studies, she is also affiliated with Women & Gender Studies and the department of psychology. In 2002, she was awarded the George Mason University Teaching Excellence Award. Her scholarly and professional interests include issues surrounding violence and gender, leadership, organizational development and change, and collaboration and community building across a variety of contexts. She was a consultant for the National Learning Communities Project and continues to present at national meetings and consult with individual institutions on topics such as leading institutional change; learning space design; interdisciplinary collaboration; working with student and faculty diversity; and other issues related to faculty, teaching, learning, and leadership.
Kim served for nine years as the Director of the Center for Teaching and Faculty Excellence (CTFE) and Associate Provost for Faculty Development, providing programming, consultations, and professional development support to Mason faculty and graduate students, with an emphasis on teaching and learning. She has collaborated with campus leaders on multiple institution-wide curricular, strategic, and leadership initiatives, including Mason's award-winning Students as Scholars program, the Leadership Legacy Program, various diversity and inclusion efforts, and the Learning Environments Group (LEG).
Currently, she serves as Associate Provost for Faculty Affairs and Development. In this role, she is responsible for all matters pertaining to Mason faculty's professional well-being and development, including assisting with faculty career development, recognizing faculty excellence, cultivating academic leadership, and implementing policies and practices that support faculty at Mason.
Kim earned her MA and PhD in Community Psychology from Michigan State University and her undergraduate degree from Indiana University at Bloomington.
Stephen Nodine, PhD – snodine@gmu.edu
Director for Digital Learning, Stearns Center
As digital teaching and learning initiatives continue to expand and grow at Mason, Steve collaborates with University leadership to coordinate and develop strategic planning efforts. Additionally, Steve leads us in our office goals of increased support and services for online faculty and students.
Steve received his PhD in Forestry from Clemson University. He has served as a faculty training coordinator, distance education specialist, faculty mentor, instructional designer, instructional design manager, and faculty member in both online and face-to-face classrooms. He has advised faculty from all disciplines as they work to incorporate digital tools effectively into blended and online courses.
Key Strengths: Maximizer, Positivity, Arranger, Individualization, Developer
E. Shelley Reid, PhD – ereid1@gmu.edu
Director for Teaching Excellence, Stearns Center
Shelley has grown up in an extended family of teachers—including several college English professors as well as a middle school principal, a choir director, a medical school mentor, a gymnastics coach, a history teacher, a special education coordinator, and a high school counselor—so it's not surprising that she frequently studies how both students and teachers learn. She is an associate professor in the Department of English, where she directed the composition program for ten years; taught undergraduate and graduate courses in writing, editing, and program administration; and helped create the doctoral program in Writing and Rhetoric.
She has recently published articles about how teaching assistants in composition programs learn to teach, how writing students engage in peer review activities, and how program leaders can assess student progress. She is interested more generally in questions of how learners transfer knowledge from one context to another, and how institutions shape the work of teachers and learners at all levels.
Laura Lukes, PhD – llukes@gmu.edu
Assistant Director for Teaching Excellence, Stearns Center
Laura is both a geologist and a geoscience education researcher, currently serving as the Assistant Director of Stearns Center. Her research focuses on how learning environments, teaching practices, and beliefs influence the strategies and tactics students use to manage their own learning in classroom settings (self-regulated models of learning). Laura is an award-winning educator who has experience teaching in a variety of settings (university, community college, K-12, informal, in the field, in person, online) and class sizes (6-95). She also has experience collaborating with faculty and providing training for graduate students in how to incorporate active learning methods into their classrooms.
Prior to joining the Stearns Center in June 2014, she served as an Albert Einstein Distinguished Educator Fellow at the National Science Foundation (NSF) in the Office of Polar Programs. During this time, she served as Director of the Joint Science Education Project (JSEP), an internationally-collaborative field science research experience on the Greenland ice sheet for students and teachers from Greenland, Denmark, and the US. Laura continues to be an active leader in the national and international geoscience education communities. She served as President of the Geoscience Education Research Division (GER) of the National Association of Geoscience Teachers (NAGT) and the chair of the Education Committee of the Geological Society of America (GSA). She received the 2017 Biggs Award for Earth Science Teaching from the Geological Society of America.
Laura Phelps, MS – lphelps@gmu.edu
Assistant Director for Digital Learning, Stearns Center
As Digital Learning expands its support and services, Laura focuses on the coordination and implementation of a robust and integrated online student services program. She also leads communication planning to unify office messaging regarding recruitment, curriculum development, and institutional support. With over 15 years in higher education administration, Laura has experience in strategic planning, data analysis and reporting, assessment, and organization and leadership development.
Laura received her MS in Organization Development and Knowledge Management from Mason. As an Associate Certified Coach (ACC), she pursues her passion for coaching others in creating positive, lasting change and leading fulfilling personal and professional lives.
Key Strengths: Empathy, Relator, Individualization, Developer, Connectedness
Darlene Smucny, PhD – dsmucny@gmu.edu
Assistant Director for Digital Learning, Stearns Center
Darlene oversees the online course peer review process at Mason and assists departments with customized course and program reviews. Her focus is quality in online courses and programs, with an emphasis on faculty development, services, and support. Offering an experienced instructor's perspective of online teaching and learning, Darlene can share guidance, tips, and resources for getting started and actionable feedback for course improvement.
Darlene received her PhD in Anthropology from UCLA. Prior to Mason, she worked at University of Maryland University College, where she designed and taught fully online courses and managed online faculty in the social sciences undergraduate program.
Key Strengths: Learner, Ideation, Intellection, Input, Individualization
Susan Campbell, BS – scampbel@gmu.edu
Instructional Designer & Learning Technologies Analyst, Stearns Center
For over 34 years, Susan has held roles as instructional designer, instructional technologist, training manager, and trainer. With many of these years at Mason, she has provided services to every academic department and has been a guest lecturer across disciplines. Susan collaborates with faculty members and teaching assistants to design and develop successful online courses, technology-integrated components of face-to-face courses, and effective classroom management strategies.
Susan holds a BS in Community Services from Virginia Commonwealth University with expertise in establishing and implementing service-oriented programs in the public sector. She is certified as a Blended Learning Designer and Sloan-C Online Teacher.
Key Strengths: Strategic, Intellection, Adaptability, Input, Empathy
Katrina Joseph, MS – kjoseph@gmu.edu
Instructional Designer, Stearns Center
A member of the Mason community for ten years, Katrina has more than 20 years of experience in the eLearning industry, including design and development, videoconference network management, and corporate training video production. Her specialties include: instructional design and development, faculty professional development, interactive multimedia, simulations, synchronous learning tools, IT training and consultation, active learning, instructor presence, game design, web design and accessibility, 3D printing, learning management systems, web conferencing, video production, and project management.
Katrina holds a MS in Telecommunications, and she is currently a PhD candidate specializing in instructional technology with a research focus in educational game design.
Key Strengths: Positivity, Activator, Connectedness, Learner, Arranger
Ying-Ying Kuo, EdD – ykuo3@gmu.edu
Instructional Designer, Stearns Center
In her role, Ying-Ying often highlights the importance of integrating technology to support pedagogy and learning outcomes in design. Her designs promise efficient and effective online teaching and learning as well as course management. Her biggest reward comes from instructors and students who become proficient in teaching and learning in the digital world.
Ying-Ying received her EdD in Technology Education from West Virginia University. She is interested in complex educational topics using data derived from surveys, Blackboard, and instructional documents. She has devoted herself to educational research that will assist educators and ensure quality in online courses and programs.
Key Strengths: Learner, Achiever, Relator, Strategic, Responsibility
Larisa Olesova, PhD – lolesova@gmu.edu
Senior Instructional Designer, Stearns Center
With over 20 years of teaching experience in the U.S. and Russia, Larisa has expertise in the traditional classroom and online. Her professional and research interests focus on distance education, working with faculty on aspects such as online presence, the Community of Inquiry (CoI), instructional strategies, and best practices in online teaching.
Her published works include Feedback in Online Course for Non-Native English-Speaking Students, chapters in Creating Teacher Immediacy in Online Learning Environments and Assessment in Online and Blended Learning Environments, and articles in various online education journals. Larisa received her PhD in Learning Design and Technology from Purdue University.
Key Strengths: Strategic, Maximizer, Ideation, Significance, Focus
Rick Reo, MA/MEd – rreo@gmu.edu
Instructional Designer, Stearns Center
Rick supports faculty developing and teaching online, hybrid, and ground-based courses. He provides broad-range support for instructional technology at Mason's Science and Technology Campus, including one-on-one instructional design consultations, faculty and support staff training, and project management. Rick has taught online and face-to-face for over ten years, and he is a regular instructor of the Online Course Development Institute (OCDI) and other faculty professional development workshops.
Rick holds a MA in Cultural Anthropology and a MEd in Instructional Design and Development. His pedagogic interests include designing global collaborative classroom courses, developing social media learning activities, and designing authentic learning strategies.
Key Strengths: Ideation, Input, Intellection, Adaptability, Futuristic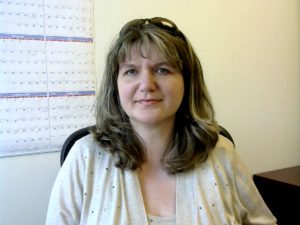 Ala Showers, MEd – ashowers@gmu.edu
Instructional Designer, Stearns Center
Ala started her career as an ESL faculty and, after a short segue to the corporate world, fell in love with instructional design while working at Mason. Her 15+ year career in higher education equipped her with skills in project management, web and media design, e-learning development, and a variety of tools and software that help online courses become alive, effective and engaging.
Her instructional design practice is driven by passion and best practices in online learning grounded in research. Ala holds a MEd in Instructional Design and Technology and an e-learning graduate certificate from Mason. Prior to her position at Mason, she was a member of NOVA's instructional design team, supporting over 23,000 students in 550 unique courses. Ala is a Quality Matters (QM) certified peer reviewer of online courses. Her research interests include media design, technology for second language acquisition, brain-based learning and student engagement in online environments.
Key Strengths: Learner, Achiever, Activator, Relator
Monisha Tripathy, MEd – mtripat2@gmu.edu
Instructional Designer, Stearns Center
Monisha brings over fifteen years of work experience in instructional design, training, and quality assurance, with application in both higher education and corporate settings. In her role, she provides design support to Mason faculty members who are teaching classes online. She also assists with curriculum planning, provides ongoing support to ensure learner-centric instruction, and engages in the online course review process, working with faculty members on continuous course improvement efforts.
Monisha received her MEd in Instructional Design and Technology from Mason. Her specialties and professional interests include curriculum development, adult learning theory, online class development, online instruction, and quality assurance.
Key Strengths: Communication, Arranger, Relator, Positivity, Harmony
Ashleen Gayda, MA – agayda1@gmu.edu
Events and Program Manager, Stearns Center
Ashleen has been a member of the Mason community for over a decade, first earning her Bachelor of Arts in Art and Visual Technology, concentrating in digital art and animation with a minor in English. Upon graduation, she joined the Stearns Center for Teaching and Learning in 2008. She also holds a Master of Arts in Arts Management and a graduate certificate in Special Events Management from Mason. A versatile program manager, Ashleen specializes in event planning and management, non-profit administration, and marketing and communications.
Key Strengths: Achiever, Individualization, Intellection, Relator, Learner
Stevie Kelly, BA – skelly23@gmu.edu
Administrative and Program Specialist, Faculty Affairs and Development
Stevie provides support for the Associate Provost for Faculty Affairs and Development and related office activities, including new faculty orientations. Through event planning, faculty recognition initiatives, and day-to-day operations, Stevie collaborates closely with the Stearns Center. Stevie earned her BA in Politics from Oberlin College.
Key Strengths: Learner, Input, Context, Individualization, Discipline
Lisa Sedlock, MAE – lsedlock@gmu.edu
Project Manager, Stearns Center
Lisa provides direction and support to the authorization and compliance of Mason's online programs. She oversees the creation and implementation of organizational systems that serve to both efficiently and effectively manage Mason's activity levels in relation to compliance standards. Lisa's research focus stems from an interest in assessment, strategic planning, and educating others about policy and practice.
Prior to her position at Mason, she worked in multiple roles at higher education institutions in areas such as academic administration, teaching, career services, residence life, student life, financial aid, enrollment management, and student affairs administration. Lisa received her MAE in Student Personnel in Higher Education from the University of Florida and is completing her Certificate in Institutional Research from Florida State University online.
Key Strengths: Context, Strategic, Achiever
Laura Todd, MA – ltodd4@gmu.edu
New Online Projects Coordinator, Stearns Center
Formerly a high school teacher in Fairfax County Public Schools, Laura coordinates and manages the development of new fully online programs and courses. Laura also serves as a key member of the Director for Digital Learning's support team. Laura earned her BA in Spanish from James Madison University, and her MA in Education (Curriculum & Instructions) from the University of Phoenix Online. She has also been accepted into Mason's PhD program for Special Education.
Key Strengths: Organization, Connectedness, Problem-solving, Adaptability
---
Faculty Fellows
Ali A. Weinstein, PhD – aweinst2@gmu.edu
Associate Professor, Global & Community Health
2017-18 Stearns Center Faculty Fellow
Ali has extensive experience conducting human biobehavioral experiments in the laboratory and field, conducts survey research, as well as a small research portfolio of qualitative research. Her research focuses on important contributors to health and recovery from illness and trauma within the broad context of medical psychology: depression, stress, and physical activity/exercise. She pursues experiments to elucidate mechanisms of bi-directional relationships between physical and mental health. Fatigue is a special area of interest for Ali, since fatigue is reported to be one of the most distressing symptoms experienced by the general population, as well as individuals with chronic illness and disability. Her future plans include the development of a sensitive, specific, and robust measure of fatigue. She received a Teaching Excellence Award in 2016.
---
Coordinating Circle
The Coordinating Circle is comprised of representatives from units that lead cross-campus initiatives or that provide academic support services to students, faculty and staff across campus. Coordinating Circle meets regularly throughout the academic year to ensure open channels of communication and effective collaboration across campus-wide curricular initiatives and resources.
Jan Arminio
Director, Higher Education ProgramKimberly Eby
Associate Provost for Faculty Affairs and DevelopmentMichelle LaFrance
Director, Writing Across the CurriculumSusan Lawrence
Director, The Writing CenterLaura Lukes
Assistant Director, Center for Teaching and Faculty ExcellenceJessica Matthews
Associate Director, CompositionJanette Muir
Associate Provost for Academic Initiatives and Services
Thomas Polk
Assistant Director, Writing Across the CurriculumE. Shelley Reid
Director, Center for Teaching and Faculty ExcellenceDarlene Smucny
Assistant Director for Quality in Online Instruction, Distance EducationDiane Smith
Associate University Librarian, Research and Education ServicesJoy Taylor
Director, Learning Support Services, Division of Instructional TechnologyBethany Usher
Associate Provost for Undergraduate Education
---
Campus Partners
| Campus Partner | Description |
| --- | --- |
| Graduate Student Life | Graduate Student Life is a single location where information relevant to graduate and professional students may be easily accessed; it is complementary to the websites of academic programs; and it offers graduate students a virtual method of connecting with one another. |
| Human Resources and Payroll | Human Resources and Payroll aims to provide exemplary customer service and promote a fair, equitable, ethical, and quality working and learning environment for all employees and members of the University community in support of the mission of George Mason University. |
| Information Technology Services | ITS fosters and supports the university community in the use of technology for research, teaching, and learning. It is organized into the following departments: Classroom and Lab Technologies, Educational Media Services, and Learning Support Services. |
| Mason Core | The Mason Core website offers a variety of resources for faculty who are interested in submitting a course for consideration by the Mason Core Committee; provides a list of approved Gen Ed courses; and outlines the requirements that all undergraduates seeking a baccalaureate degree at George Mason University must complete. |
| MasonLeads | MasonLeads is a site offering a wide range of leadership programs and initiatives for members of our campus community. The goal is to engage Mason students, faculty, staff and alumni in creating a socially conscious, civically engaged, and global campus community through leadership at all levels of our institution. |
| Office of Digital Learning | The Office of Digital Learning provides students with the opportunity to take the same classes offered on campus in an online format. Many distance education courses may be completed at home, while stationed abroad, or while traveling. |
| Office of Disability Services (ODS) | ODS implements and coordinates reasonable accommodations and disability-related services that afford equal access to university programs and activities. |
| Office of Institutional Research and Assessment (OIRA) | OIRA functions as the official source of institutional information and supports institutional effectiveness and the university's mission of providing a superior educational experience for all our students by: assessing student learning outcomes; providing support for and managing academic program review; conducting survey and focus group research; supporting regional accreditation and strategic planning; being an assessment resource to the university community; promoting best practices in assessment and the use of assessment information for improved decision-making; defining, collecting, analyzing, maintaining, and disseminating official institutional data; and providing official institutional information to both internal and external constituents for the purposes of describing, documenting, and publishing institutional information and measures of effectiveness. |
| Students as Scholars | Students as Scholars aims to foster a culture of student scholarship through increased participation in and celebration of scholarly activities. The initiative helps students to see their education as a process of scholarly inquiry, where scholarship is valued as a core practice of the George Mason University student experience. |
| University Libraries | The University Libraries website contains online catalogs, links to databases, and valuable reference sources. |
| University Life | University Life enhances students' in- and out-of-class experiences, in addition to facilitating interactions among faculty, staff, and other students. These resources help students achieve academically, stay healthy, get involved with campus life, find jobs, and identify resources to enrich their learning. |
| Writing Across the Curriculum (WAC) | WAC focuses on writing as a pedagogical tool that enables students to develop critical, analytical, and imaginative thinking to address complex social issues, and on faculty development in support of excellence in teaching. |
| The Writing Center | The Writing Center offers both in-person and online writing assistance for students, including online writing guides, reference guides, and style manuals. Additionally, the Writing Center provides assistance to faculty who are interested in holding in-class writing workshops, developing effective writing assignments, or evaluating students' writing. |
---