Benjamin Bloom's Taxonomy of Learning, created in the 1950s, is frequently used by educators to help define and visualize the kinds of learning that we hope our students will achieve. The taxonomy identifies fundamental learning levels (remember, understand), application levels (apply, analyze) and integration levels (evaluate, create). A common diagram of Bloom's Taxonomy uses a pyramid shape with foundational learning at the bottom; however, that pyramid suggests that "creation" learning — located in the small top triangle of the pyramid — is not only higher but less frequently integrated into coursework than fundamental learning.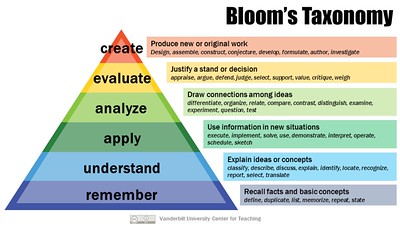 Stearns Center recommends thinking about all levels of this taxonomy as crucial to student learning in the 21st century: information recall is necessary but not sufficient for students to move into post-collegiate professional fields. The diagram below gives a more evenhanded representation.
Stearns Center also recommends helping your students understand when you are asking them to do a task that requires only foundational level learning, and when you are asking them to "raise their game" to move into application or integration of learning. For more information about how to represent learning opportunities to your students, please see our Innovations in Teaching and Learning Keynote speech by Dr. Saundra McGuire about strategies to increase students' awareness of their own learning and their reflective practice.
Finally, while reflective practice is not originally part of Bloom's Taxonomy, current research into learning emphasizes the value of metacognitive and/or reflective practices: students are more successful at retaining and transferring learning when they can articulate what they have learned and how; who can identify how they plan to apply course concepts to novel situations; how their learning connects to their own key goals, principles, and responsibilities; and/or how they plan to continue learning and adapting.
LEVEL
DEFINITION
SAMPLE VERBS
REMEMBERING
Student is able to recall or recognize
ideas, information, and principles that
were learned.
Recall
Define
Identify
List
Label
Match
State
Describe
UNDERSTANDING
Student is able to explain and
comprehend ideas and concepts
based on prior learning.
Summarize
Paraphrase
Compare
Explain
Recognize
Illustrate
Infer
Interpret
APPLYING
Student is able to select, transfer, and
use data and principles to complete a
task or solve a problem in another
familiar situation.
Compute
Solve
Implement
Demonstrate
Apply
Use ___ to ___
Construct
ANALYZING
Student is able to break down
knowledge into parts to explore
understandings and relationships;
sees how parts relate to each other
and an overall structure/purpose.
Analyze
Critique
Assess
Interpret
Compare
Contrast
Question
Distinguish
Differentiate
Organize
EVALUATING
Student is able to justify a decision or
course of action through assessing
and critiquing ideas and concepts
using specific standards and criteria.
Recommend
Critique
Judge
Hypothesize
Evaluate
CREATING
Student is able to develop, integrate,
and combine ideas into a product,
plan or way of viewing things that is
new to him or her.
Construct
Design
Theorize
Invent
Synthesize
Connect
Arrange
Compose
Design
Propose
Integrate
REFLECTING: Although this is not part of Bloom's original Taxonomy, reflective practice is crucial for long-term learning.
Student is able to identify strategies that support learning and articulate plans to transfer concepts between settings and fields
Reflect on…
Identify challenges of…
Predict options for…
Adapt strategies for…
Improve ability to…
Take responsibility for…
Create habits of…
Articulate values for…
Demonstrate engagement with…

(Download a pdf of the chart here)
Some material on this page was adapted from Vanderbilt University and from Robert Noyd (2001).