Outstanding teaching is an integral part of Mason's mission and is deserving of significant recognition. The Teaching Excellence Awards are both institutional recognition and a monetary acknowledgment of the significant work that faculty members devote to course planning and preparation; curriculum development; and innovative teaching, advising, and mentoring. We urge program and department leads and other administrators to take this opportunity to recognize teaching excellence at Mason by nominating an adjunct that you view as an outstanding educator.
---
Nomination Process:
The Adjunct Faculty Teaching Excellence Award recognizes the outstanding teaching of adjunct faculty while offering a slightly different selection process from our original Teaching Excellence Awards. The evaluation criteria have been refined to focus on the teaching work of adjuncts, and the portfolio process is streamlined accordingly. This award is open to all adjunct faculty members who are currently teaching a course or who taught at least one course during the past current academic year who also have fully completed at least 6 semesters of teaching experience at Mason. Semesters of teaching do not need to be consecutive to meet eligibility requirements. (Nominators do not need to confirm a faculty member's eligibility prior to submitting a nomination.)
Nominations are accepted on a rolling basis; any nominations submitted after the deadline will be considered for the following year's awards cycle. Nominations can be from administrators (department chair, program director, teaching unit coordinator, dean, etc.), colleagues, or current or former students. Your nomination should include a paragraph or two to address how the faculty member meets some of the following criteria for teaching excellence:
Growth and development as an educator
Student and learner engagement
Assessment of student learning and achievement
Teaching effectiveness and impact
If you have questions or would like further information, please contact us.
2024 Nomination Deadline: Friday, December 1, 2023
Method: Please use our online form for your nomination.
---
Criteria:
Submissions will be evaluated according to the following guidelines:
---
The Selection Process:
Nominations will be accepted through early December.
Nominees will provide a condensed teaching portfolio by early February.
The Adjunct Faculty Teaching Excellence Award winner will be selected by early April.
Our recognition ceremony for all our award winners will be in April. Winners receive a stipend as well as formal recognition; Teachers of Distinction will also be recognized at this ceremony.
A NOTE TO NOMINEES: We will be using your official Mason email address to communicate throughout the selection process. Please be sure to check it regularly. Please email stearns@gmu.edu if you have any questions.
---
Adjunct Teaching Excellence Award Winners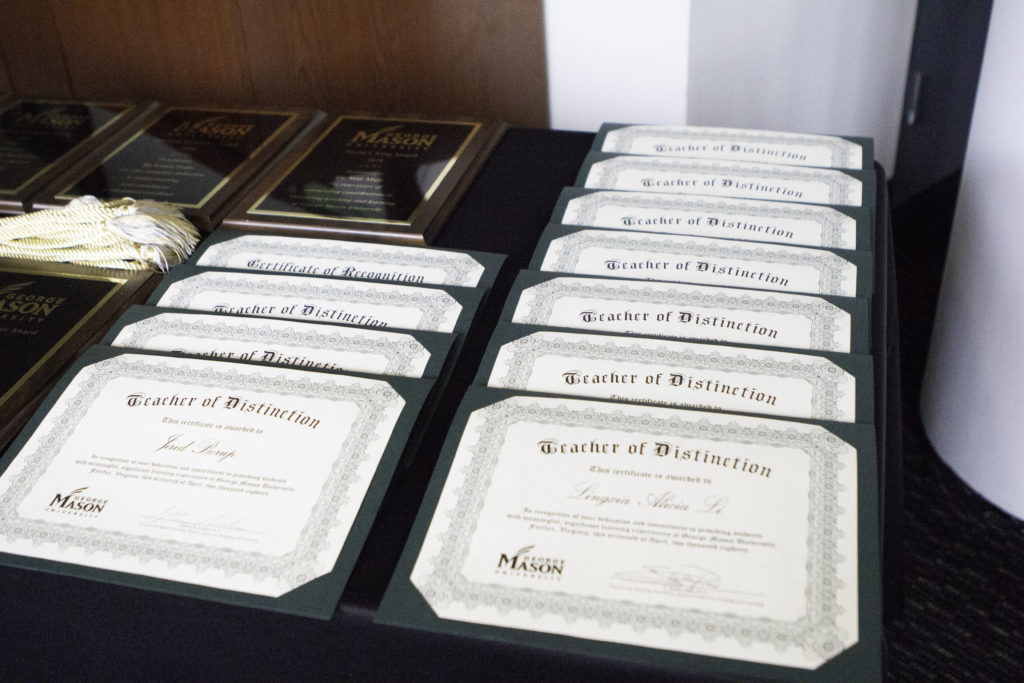 Stearns Center Awards